Welcome to Clark Boat Yard and Marine Works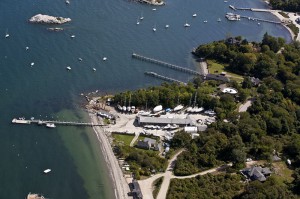 Originally opened in 1934, Clark Boat Yard and Marine Works is founded on four generations of highly skilled marine craftsmen. Clark Boat Yard is nestled behind the historic Round House and customers enjoy pristine vistas of Newport Bridge and Clingstone, the house on the rocks.
Located just south of the centre of Jamestown, the boat yard offers convenient parking, dinghy racks, a touch and go dock, boat ramp and marine railway in order to assure you easy, smooth access to a full day of boating fun and enjoyment. Clark Boat Yard provide seasonal and transient mooring rentals, yacht repair and vessel maintenance, storage, along with many other services.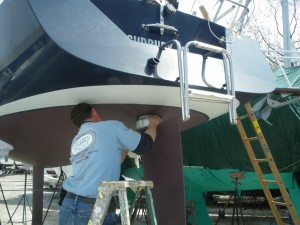 Remnants of the historical New England boat yard blend perfectly with the modern amenities the Clark Family has introduced to their boatyard. Tucked behind the Racquet Road Wildlife Refuge, come and join us for a fun, relaxed boating adventure or talk to our craftsman about your vessel maintenance and expert repair. At Clark Boat Yard and Marine Works, your boating enjoyment is our highest priority.